York Electric celebrates the history, culture, pottery and membership of Elizabeth Plyler and the Catawba Indian Nation
Sculpting clay dug from holes along the Catawba River has been an integral part of life for the Catawba Indians for thousands of years. Pottery, one of the oldest and purest art forms, is the language of love for many in the Catawba Indian Nation, who have perfected the craft over the past 4,000 years. Not only beautiful, Catawba pottery is utilitarian, valuable, tradeable and historical.
Elizabeth Plyler, a skilled potter who will celebrate her 92nd birthday this month, is proud of her heritage as a member of the Catawba Indian Nation. The Catawba have lived along the banks of the Catawba River for at least 6,000 years. Just like the clay she and her ancestors mold into precious relics, she has adapted her life to overcome difficult odds.
From her home on the Catawba Indian Nation Reservation, Plyler shares details of her life as a Catawba Indian, a York County native and one of the first members of York Electric Cooperative. Eighty years ago, YEC brought electricity to the Catawba Indian Nation, greatly improving the quality of life for Plyler's family and others in surrounding rural areas.
"We were dirt poor, but we didn't know any different," says Plyler. "We thought everyone lived that way."
As a young girl, she remembers her father working odd jobs to make money for their family.
"Although he wasn't a Catawba, he was no longer accepted by others because he married my mother," Plyler says. "Since he lived on the reservation, no one would hire him. Somehow, he always found a way to provide for our family."
In fact, the entire community looked out for each other.
"When someone was in need, someone else was always able and willing to help," says Plyler. "Whether it was giving a cup of sugar or caring for the sick, we always worked together and helped each other."
Often, the way her grandmother could help was through her pottery. The skill was passed down for generations and always served a purpose. Plyler's brother has pottery from their greatgreat- grandmother. Whether they were selling or trading it for other goods, their craft was their livelihood.
"I remember going door to door with Granny selling pottery. If someone didn't want to give money for a piece, Granny was open to a trade," Plyler says. "One time, we traded for a pair of men's shoes. We couldn't wear them, but Granny taught me that someone could."
YEC was started nearly 80 years ago to bring electricity to the rural communities of York, Cherokee, Chester and Lancaster counties. Having electricity brought about a great shift in daily life and opportunity for families of the Catawba Indian Nation.
Plyler remembers the time before electricity when light came from an oil lamp, irons were heated by a wood fire, food was cooked from a wood stove, water was hauled from the creek for cooking and bathing, and an ice truck came around once a week to sell ice to keep perishables cold. When YEC wired their house, she says it was "a blessing."
"YEC was a great blessing to us back then. We were able to enjoy things that we couldn't before," says Plyler. "While we were saving our pennies to buy our own radio, I remember going to my uncle's house to listen to the Grand Ol' Opry on his radio. It was amazing to hear them sing all because of electricity. After we were able to buy our radio, my mother bought an iron and then saved to buy a refrigerator."
Catawba communities are matriarchal societies where women are the dominant centers of the community. Creating and firing pottery once was a task that required the women to leave pottery pieces around a wood stove fire all day. Now, with electricity, Plyler fires her pottery in her kitchen oven for five hours, polishes the piece with a stone, then burns the piece in three wood fires to let it cure and provide the distinguishable unique color of Catawba pottery.
"Creating is in my blood and something I enjoy," says Plyler.
Approaching nearly a century of life experience, Plyler likes to stay busy.
She recently learned a new craft, basket making, and has a growing collection of handwoven pieces. Plyler is happy to share her love of her craft with her brothers and pass down her stories and heritage to her children.
"Electricity made life easier, but spending time helping others is what makes life good," says Plyler.
Editor's Note: Background material for this article was provided by the Catawba Cultural Center. The center's mission is to preserve, protect, promote and maintain the rich cultural heritage of the Catawba Indian Nation through efforts in archives, archeology, tribal historic preservation, native crafts, cultural education and tourism development. To learn more about the Catawba Indian Nation, please visit catawbaindian.net and catawbaindiancrafts.com.
Brown Pottery Pipe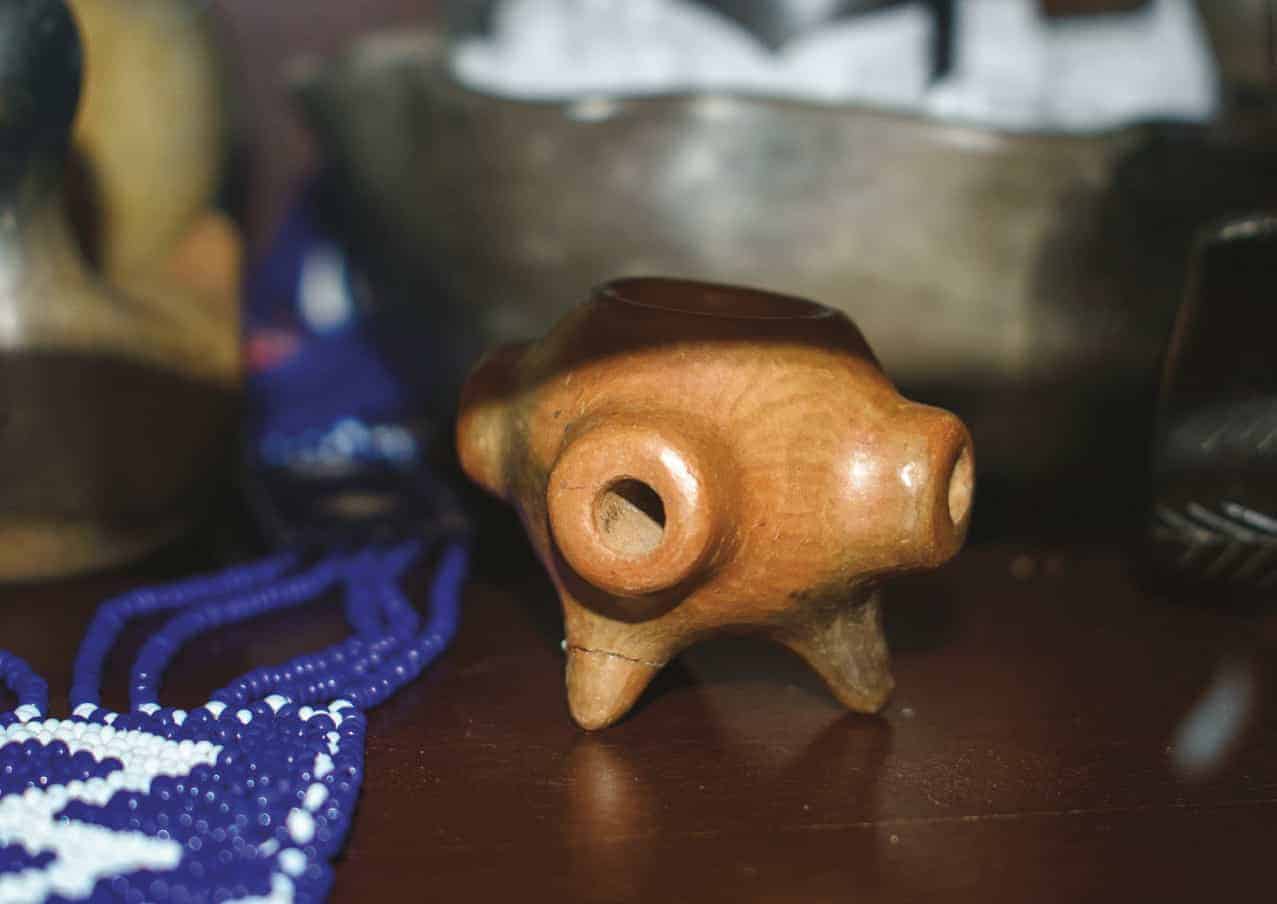 Image 1 of 4
Plyler's pottery collection includes a small brown pipe crafted by elder Hazel Ayers, known as "The Foxx." Ayers was one of the original committee members representing the tribe when the Catawba Indian Tribe of South Carolina Land Claims Settlement Act became law in 1993. The Act made the Catawba Indian Tribe the only federally recognized tribe in South Carolina.
Photos by Porter Gable
Check Out YEC's Podcast: Co-op Talk